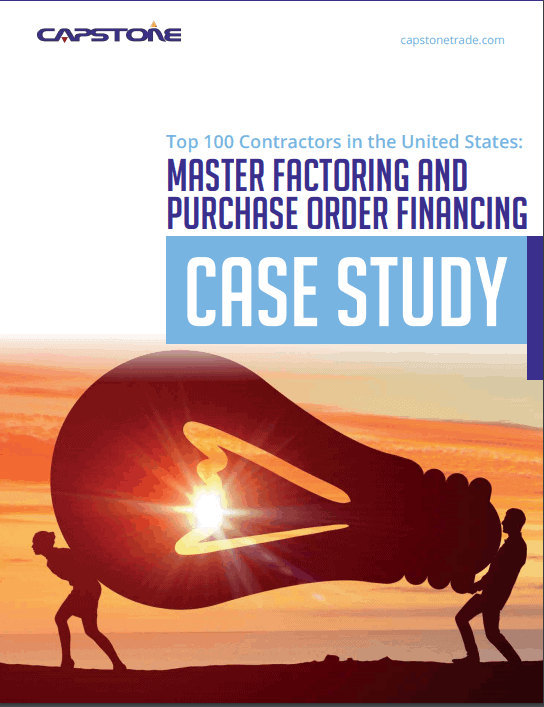 Top 100 Contractor Purchase Order Factoring Case Study
This company is located in Pennsylvania and has active projects in 125 countries worldwide, including regional offices in Honolulu, Hawaii; Phoenix, Arizona; Fort Lauderdale, Florida; and Bataan, Philippines, and satellite offices worldwide. As a global commercial construction company, the company develops, manages, and builds projects worldwide. This means their cash flow is important; they must keep cash on hand to move onto the next project.
Capstone stepped in to help the company with its cash flow issues. We knew this company would need a customized solution enabling them to continue their work. Working together, we found the right solution to address their specific needs.
• Company is a global commercial construction company and the largest construction/ general contractor company in the Pittsburgh, PA region
• The company been in business for more than 90 years with clients including major corporations, developers, and municipalities
• Company has consistently ranked among the Top 100 Contractors in the United States
BACKGROUND
COMPANY CHALLENGES
This company was facing significant problems with cash flow. The company struggled with stretched payables demand, less profitable terms, which constricted margins, operating leverage, and the company's ability to generate new and profitable business. This challenge had to be addressed; as a company with worldwide projects, they had to be ready to meet new opportunities head-on.
CAPSTONE'S SOLUTION
• Provided a Master Invoice Factoring Facility to inject the working capital required for supporting a larger volume of contracts
• Provided Purchase Order Financing Facility
PROGRESS & FUTURE OUTLOOK
• Eased constraints on cash flow dramatically ï Company is now paying their vendors on time
• Company focus is now on rapid company growth
• Revenues have doubled monthly since the company began factoring
• Capstone is funding projects valued at over $350 million
Top 100 Contractor - Purchase Order Factoring - Capstone Capital Group
Download