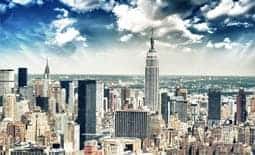 Builders Betting on Booming Rent to Continue—Should They?
Real estate investors are betting, perhaps mistakenly, that the six-year trend of rising rents in luxury urban apartment units will continue. Likewise, developers are hoping it will be worth their time, and money, to continue building them. According to research conducted by Axiometrics Inc., developers have built nearly 900,000 new urban apartment rental units over the past three years. This number is expected to climb by roughly 100,000, over the next three years, approaching one million new apartment units.
The Numbers
There were 328,000 multifamily apartment units built in 2014, the most in any given year in the past 30 years, according to Jed Kolko at the Terner Center for Housing Innovation at Berkeley. Since early 2010, rents have increased by over 20%. In 2015, real estate research firm Reis Inc. reports that, nationally, average rents rose by 4.6%. Demand for apartments remains high, and economists generally expect this trend to continue through 2016. But all this construction may correlate poorly with actual demand. Contractors are overwhelmingly focused on the higher end of the market, and many new multifamily properties being built are only affordable to renters making twice to four times the median income in their area.
Developers Flocking to High-End Construction
Many contractors that have previously worked in other market sectors have now moved into luxury multifamily urban apartments. Whether their background was in single-family homes, office buildings, or retail space, many have been drawn by the promise of huge profits from luxury, high-rent buildings.
Doubts in the Industry
Though optimism in housing is high at the moment, some contractors aren't confident that the bull market for luxury apartment will continue much longer. "People are working against the clock right now," said Jaime Lee, CEO of Jamison Realty Inc. "We're coming to market as quickly as we can." Lee thinks the market could start to slow in the next few years, which is an expectation shared by many economists. Statistics show that vacancies in the suburbs are declining, even as vacancies in certain urban areas have begun to rise. This trend may indicate that people are starting to feel the effects of high rents and are now looking outside of cities for housing.
The demand for new apartments is very real, but new construction, by focusing on the higher end of the rent spectrum, might have drifted too far from the typical renter's budget.
Working with Capstone
For qualified subcontractors, Capstone provides single invoice factoring for work performed under contract with a creditworthy general contractor. We have highly experienced construction professionals on staff to facilitate the purchase of construction-related accounts receivable factoring. For more information, visit our homepage, or contact us today.