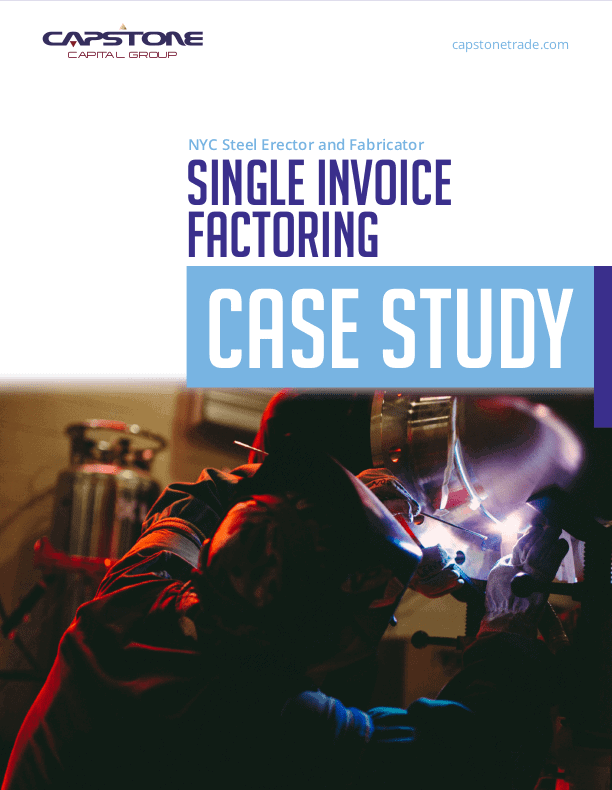 NYC Steel Erector and Fabricator Single Invoice Factoring Case Study
This client provides New York, NYC and the Tri-State area with structural steel erection and fabrication services. Without sufficient cash flow, the company could be forced to turn down new projects. Capstone knew to assist this company, they would need a solution that generated immediate cash flow. Therefore, single invoice factoring made sense; the company would not need to take on additional debt, and they would have the capital they needed to ensure funds were available to cover payroll and make timely payment to vendors.
Background
Locally owned and operated full fabrication and erection service company of structural steel and one of NYC's largest plank erectors.
Projects consist of large residential and commercial buildings located throughout New York City
Clients: Two major plank manufacturers on the East Coast
Since August 2015, the company has factored over 260 invoices ranging from $4,000 to $180,000
Total funding has been $9.2 million
Company Challenges
This company is well-established and have been in business since 1967.
They have a well-deserved reputation and yet the company was struggling to make payroll, and timely payments to vendors. The company's growth significantly outpaced cash flow and due to this cash crunch, they were forced to turn down work from two of their main customers.
Capstone's Solution
Provided a Single Invoice Factoring Facility to inject the working capital required for supporting a larger volume of contracts
Increased customer credit line by over 500 percent since the start of the relationship
Progress and Future Outlook
Cash flow constraints have been drastically eased and now the client can focus on taking on a higher volume of projects for its customers
Business volume has tripled since the client started factoring
NYC Steel Fabricator Single Invoice Factoring