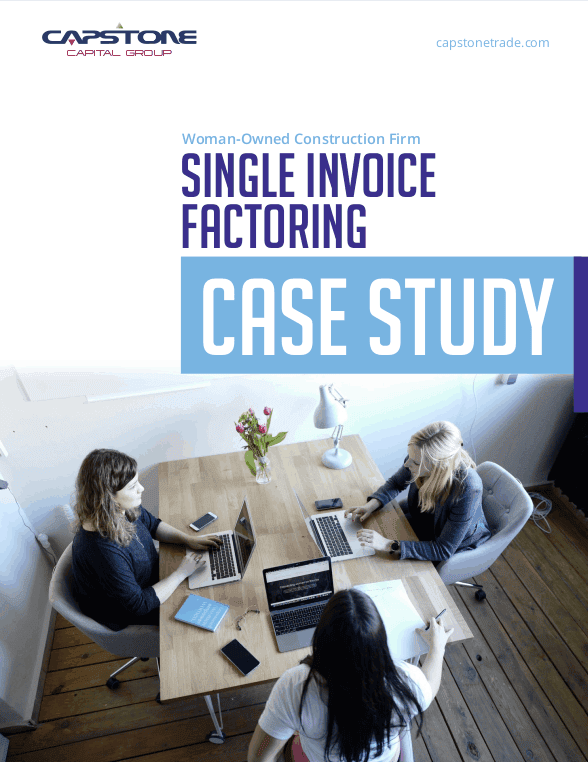 Woman-Owned Construction Firm Single Invoice Factoring Case Study
This client is a woman-owned construction firm operating in New York, NYC and the Tri-State areas. Back when the client came to Capstone in 2012, they were suffering from the negative effects to their business and customers caused by Hurricane Sandy. Without sufficient cash flow, the client would not be able to sustain operations while the recovery process commenced.
Single invoice factoring would be their fastest solution to generate immediate cash flow.
Background
Local woman-owned construction firm operating since 2008.
Full-service construction firm with clients in the hospital, nursing home, religious, education, and commercial sectors
Current Project: Major renovation of a mental health hospital operated by New York-Presbyterian Hospital
Since 2012, the company has factored over 90 invoices ranging from $2,000 to $175,000
Total funding has been $2.8 million
Company Challenges
Originally the Client needed to eliminate deficits in their cash flow caused by delays in customer payments. Many of their customers were negatively impacted due to Hurricane Sandy and were struggling during the recovery process. The Client would have a newly abundant amount of construction work caused by the destruction however they did not have access to sufficient capital in order to bid on the projects. In an effort to sustain operations and also have the ability to bid on the new construction work the company sought out Capstone's assistance for their funding program.
Capstone's Solution
Provided a Single Invoice Factoring Facility to inject the working capital required while providing flexibility
Helped the Client acquire better discounts with vendors
Progress and Future Outlook
Cash flow constraints have been drastically eased and the Client has benefited from being able to focus on the growth of the company
The Client has maintained a long term spot factoring relationship and has chosen Capstone as the preferred funding source
The Client received the necessary funding to fuel their rapid growth
Woman-Owned Construction Firm Single Invoice Factoring