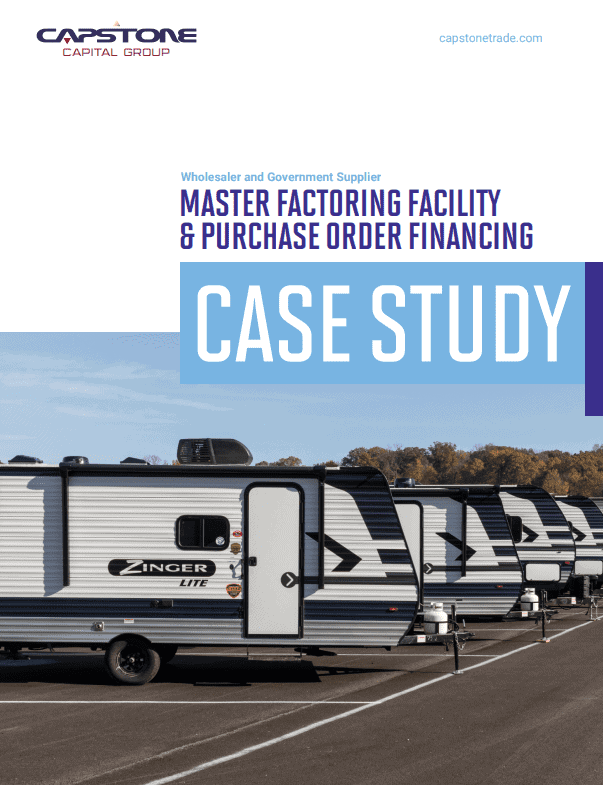 Wholesaler Master Factoring Facility & Purchase Order Financing Case Study
Wholesaler Master Factoring Facility & Purchase Order Financing Case Study
Based in New Orleans, Louisiana, this Client is a wood and construction products wholesaler. Formed in 2009, the Client was originally a wood products wholesaler however they built a disaster relief segment a few years ago in response to hurricanes and flooding in Louisiana, Texas, the Virgin Islands and Puerto Rico.
Background
The Client primarily provides product procurement and related logistical assistance required for a particular disaster area. 

They are recognized as a high value-added niche player within the disaster relief industry, as they are able to handle all logistical matters in addition to sourcing and procuring the associated product required under very tight deadlines.
Company Challenges
The Governor's Office for the State of Louisiana issued a disaster relief purchase order to the Client for the delivery of 250 recreational vehicles (RVs) to be given to residents displaced by Hurricane Irma.  

The RVs had to be sourced from 50 different vendors throughout the United States and needed to be delivered within five days of receipt of the $11MM purchase order.
Capstone's Solution
Provided an $11MM Master Factoring Facility. 

Opened an $8MM PO Financing Facility to facilitate the purchase of the RVs.
Progress and Future Outlook
The Governor's Office of the State of Louisiana was so impressed with their performance they are issuing the Client another purchase order for 500 RVs.