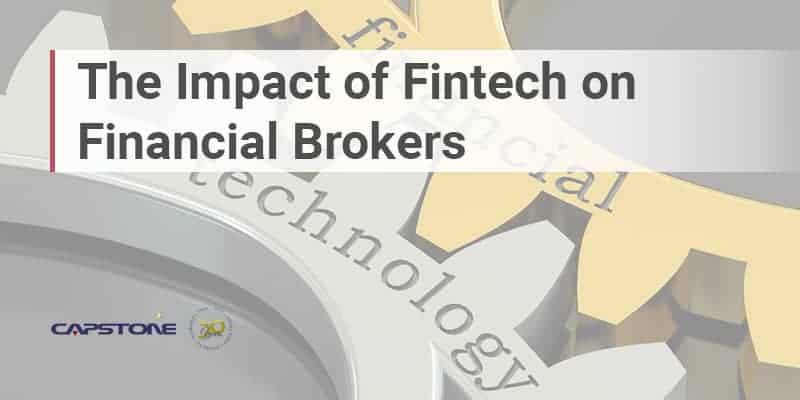 The Impact of Fintech on Financial Brokers
If you are a financial broker or ISO, fintech has undoubtedly shaped your brokerage's business practices as more financial service providers incorporate new technologies to alter how they interact with clients as well as originate and fund transactions.
In this article, we'll discuss what fintech is, where it is headed with new technology and applications, and the emerging challenges and opportunities on the horizon for financial brokers and ISOs.
What Is Fintech?
Financial technology (more commonly known as "Fintech") is a catch-all term for technology used to automate, streamline, digitize or disrupt traditional financial services.
Fintech has been around for ages however it wasn't until the 2000s that it really picked up momentum and, in the modern sense, came to refer to software, algorithms, and applications for devices connected to the internet, including computers, tablets, and smartphones. Fintech platforms facilitate day-to-day tasks such as routine banking transactions, money transfers, bill payments, and online trading of securities to name a few. Fintech also enables technically complex transactions, including online personal and business loans, mortgages, real estate purchases, and sales, peer-to-peer (P2P) lending, and cryptocurrency exchanges.
Electronic payments, money transfers, wealth management, loans, mortgages, real estate transactions, insurance, cryptocurrency, and many other financial transactions have been impacted by fintech. 
According to Ernst & Young's latest Global Fintech Adoption Index, 64% of the world's population was using fintech applications in 2019, up from 16% in 2016.  Fintech has leveraged software and hardware technology tools to reduce the time required to complete financial transactions and slashed cost, making them more accessible for vast numbers of individuals and businesses around the world.
The Future of Fintech
Fintech will continue to be driven by new and improved technology that will further accelerate the speed of financial transactions, increase efficiency, reduce processing costs, and improve client and customer experience.
Some developments on the horizon include:
Further digitization of financial transactions, particularly in the banking sector.

Use of blockchain technology in financial transactions.

Smart contracts which digitize contract signing, language, and execution of contract terms.

Additional use of artificial intelligence (AI) predictive capabilities in decision-making processes and automated suggestions to speed transactions and improve client and customer experience.

Peer-to-peer matching of users of financial products and services with financial sources.

Further use of cryptocurrencies in financial transactions.
These advances will pose challenges that financial brokers and ISOs must adapt to prosper in a rapidly evolving financial landscape.
Challenges for Financial Brokers and ISOs
Financial brokers and ISOs will face increased challenges from disintermediation, technology, and regulation as a result of fintech development. 
Disintermediation
Advances in fintech will continue to make it easier and less costly for financial service providers to go direct to clients and customers instead of through an intermediary.  This will gradually eat away at a broker's client base and will leave some brokers scrambling to position themselves as the go-to intermediary.  Intermediaries may find they have to adjust their business practices by leveraging technology and catering to their clients' changing needs and preferences to remain relevant. From chatbots and mobile apps for loans, to peer-to-peer crowdsourcing, many financial service companies are looking to connect directly with customers in new ways. These changing points of client contact are redefining the industry and increasing competition.
Technology
With significant technological changes within the financial services industry, there is no doubt a shift towards the use of digital platforms.  The rise of fintech technology is set to see brokers transforming themselves to match changing client expectations as clients expect faster service and faster products. Brokers will continue to play a role in financial transactions, however fintech may eventually eliminate their need as financial service providers incorporate these new technologies for originating and funding transactions.  The speed and efficiency of client applications have been accelerated by integrated software and AI tools that facilitate the underwriting process.  
Regulation
With the regulation of fintech increasing, brokers face the risk of being excluded from transactions or the additional costs and roadblocks will make them uncompetitive.
Despite these challenges, there are also opportunities for financial brokers and ISOs to continue to play an important role for financial service providers.
Opportunities within the New Competitive Landscape
In order to retain their role, financial brokers and ISOs will need to adapt to the new competitive landscape where change is the norm and they will need to coexist with financial sources to fill the niches where brokers can add value to transactions on a competitive basis. 
No matter the level of innovation and digital transformation brought about by fintech, there will always be the need for a human element.  Financial brokers can provide the human element that will be needed in some transactions to facilitate complex transactions involving subjective judgments and human interaction. 
The human element is key as brokers offer their clients piece of mind. Some clients fear new technology and are late adapters of fintech applications.  Financial brokers will be able to fill a niche by facilitating transactions that financial sources will not be equipped to handle.
Let us not forget fintech advances have enabled brokers to better serve clients, coordinate smoothly with financial service providers, increase business volume, improve efficiency, reduce costs, and efficiently operate their businesses.  With the increased efficiency brought about by fintech, financial brokers will also free up time to do what they do best – that is supporting their clients.  The ability for their brokerage to be more consultative and personal will be the driving factor in their success.  Financial brokers are and will remain an essential part of the fintech ecosystem.  
Partnering with Capstone
Advancements with fintech will continue to alter the competitive landscape for financial transactions. Financial brokers and ISOs will need to be flexible and willing to adapt, filling niches where they can add value to a transaction.
If you are a factoring broker or ISO and need a partner you can trust to help you remain competitive and build your business volume, now is a great opportunity to partner with Capstone! The support we offer factoring brokers speaks to our commitment to your success and we take care of those who refer business. 
What makes us different from so many other companies who offer commercial financing is we review each client's assets, consider their resources, and when necessary combine them with our advanced logistics platform. Using all the tools at our disposal, our final goal is a positive client outcome. For you, this means more satisfied clients, and another avenue for successfully closing deals. As you close more deals, success follows.
Capstone is a leading commercial finance company that provides a range of financial products designed to meet the cash flow and working capital needs of nearly any type of business, including trade financing, invoice factoring, and PO financing.  Get in touch today at (212) 755-3636.