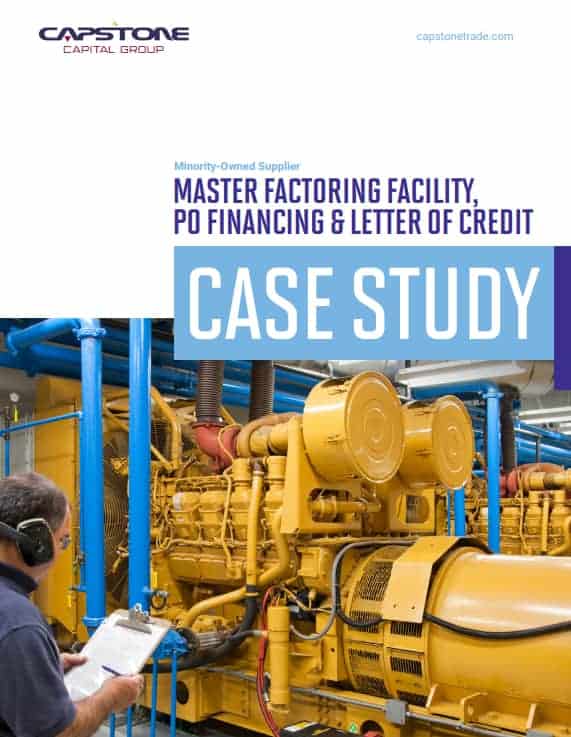 Minority-Owned Supplier Master Factoring Facility, Purchase Order Financing & Letter of Credit Case Study
This Client is a globally diversified supply-chain solutions company with offices in New York and Shanghai, China.  They provide all supply chain services from procurement, warehousing, distribution, fulfillment and transportation and has a broad portfolio of service offerings.
Background
The management team has experience with servicing the world's leading consumer product manufacturers. 

The Client is able to assist small businesses to large corporations with their supply chain needs.  

As a certified minority contractor, they have dedicated contracts from New York City agencies for materials required to conduct the City's business and maintain and improve its assets.
Company Challenges
The Client received contracts totaling $2MM from the New York City Housing Authority (NYCHA) to supply generators.   

Two of the generators are manufactured in China.  The terms of the sale were 30% down payment of the COGS and 70% of the COGS upon shipment of the goods to the USA.
Capstone's Solution
Provided a $2MM Master Factoring Facility. 

Opened a $1MM PO Financing Facility and issued two Letters of Credit to Chinese manufacturers for each generator.
Progress and Future Outlook
Based on the Client's ability to issue letters of credit and arrange for the delivery of the generators, NYCHA has given additional orders.

The new orders are for materials required for construction and maintenance of the apartment buildings and related infrastructure owned by the City of New York.