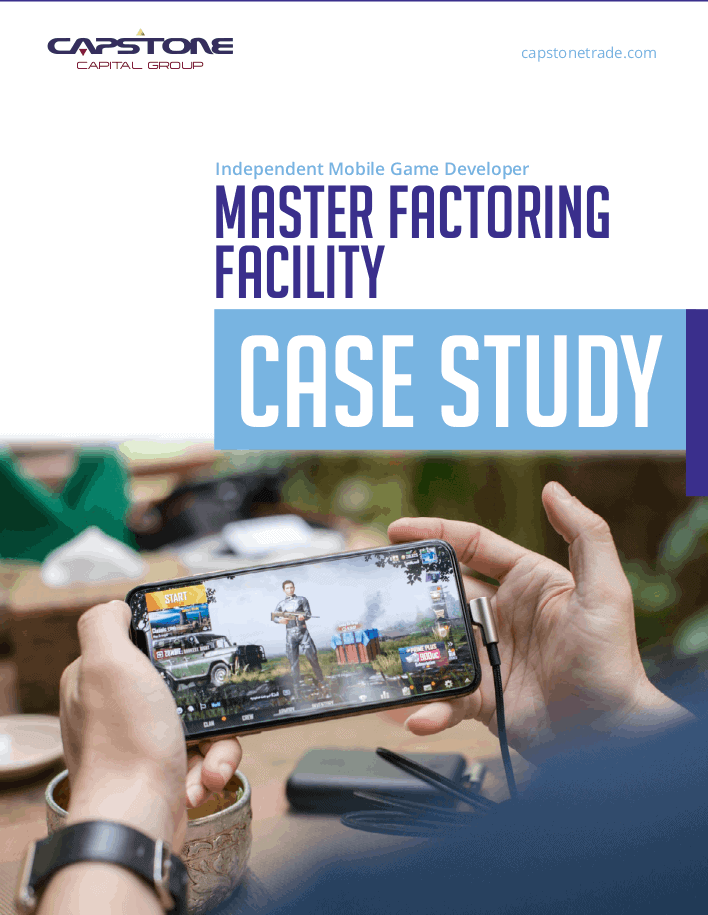 Independent Mobile Game Developer Master Factoring Facility Case Study
This California based client develops mobile games for major companies in the entertainment industry and has recently launched their own free-to-play mobile game for a blockbuster movie. Without sufficient cash flow, the company could have trouble covering payroll and software development related expenses needed to complete their milestones on time. Capstone provided the additional working capital they needed through a Master Factoring Facility.
Background
Projects are mainly work-for-hire service contracts that require software development and operational milestones to be met
Clients include global toy production company and a major entertainment companies
Since early 2018, the company has factored over 60 invoices totaling $7.3 million
Company Challenges
The company in the past had an exclusive customer for its software development. In order to grow, they decided to diversify their development revenues and bid on work-for-hire service contracts with major entertainment companies. Additionally, they self-published their own game which gave them additional expenses such as royalties and marketing. This produced a cash crunch and limited the amount of work-for-hire contracts they had for 2018. These work-for-hire contracts were potentially much more profitable.
Capstone's Solution
Provided a Master Factoring Facility to inject the working capital required to support their work-for-hire contracts and self-published game
Progress and Future Outlook
The client has compared the performance of their work-for-hire contracts vs self-publishing and found that their work-for-hire is much more profitable
The client has been awarded five additional work-for-hire contracts in 2019 and will phase out self-publishing
Revenue is projected to increase by 50% during 2019
Independent Mobile Game Developer