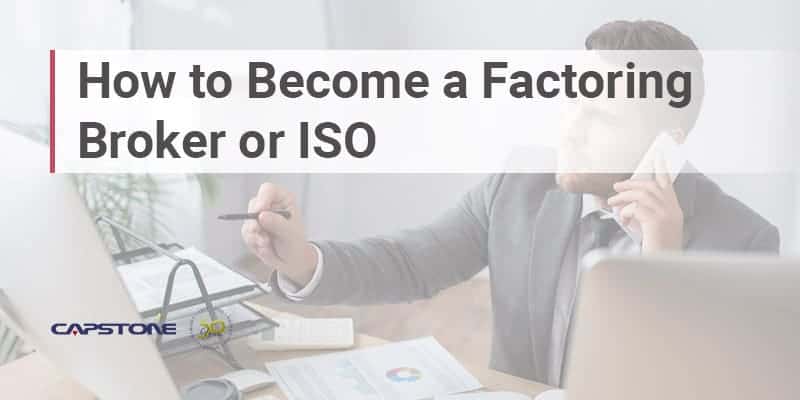 How to Become a Factoring Broker or ISO
The global factoring market is a trillion-dollar industry critical in providing businesses with alternative financial solutions.  With entrepreneurship becoming increasingly popular and people wanting to be their own boss, many professionals find the opportunity for a career and success by becoming a broker within this industry.
Whether you are a budding entrepreneur, looking for a source of residual income, or simply want the freedom of working from home, becoming a factoring broker may be a career path that complements your talents and gives you the lifestyle you prefer.
What's a Factoring Broker or Independent Sales Organization (ISO)?
A factoring broker is an industry professional such as a commercial financial consultant or independent sales office (ISO) that acts as an intermediary "referrer" between small or medium-sized businesses needing accelerated cash flow/ working and a factoring company. Factoring companies (factors) provide alternative financial solutions to accelerate cash flow and increase working capital. 
A factoring company is not a bank or traditional institutional lender, and they do not make loans. Factors provide alternative funding solutions to a broad range of industries that are more flexible and easier to obtain than a bank loan. 
Factoring brokers are not loan brokers. Loan brokers act as an intermediary between a borrower and a bank or lender.
Alternative Financial Products and Services
The products and services factors can provide include: invoice factoring, purchase order (PO) financing, trade financing, and business services.
Invoice factoring is a form of debtor financing that businesses use to accelerate cash flow or increase working capital by selling their invoices (account receivable) to a third party known as a factoring company at discount.  Businesses receive cash immediately for their unpaid invoices instead of waiting for their customers to pay.  Factoring is easier to obtain and more flexible than a loan. Credit approval is based upon the financial strength of the client's customer, not the credit profile of the client.
PO financing can be used along with invoice factoring and funds the purchase of pre-sold inventory, finished goods in most cases, materials, or other resources related to specific purchase orders or contracts.  When the client bills their customer, the invoice is factored to pay off the PO financing facility.
Trade financing provides funding for international imports and exports and domestic transactions.
Factors can also provide credit and collections services and other business solutions to help clients attain their objectives.
These financial products assist clients in many ways, including their needs for working capital solutions, business growth, seasonal gaps in cash flow, turnaround funding, etc.  Factoring, like many areas of finance, has its own jargon or lingo. When considering becoming a factoring broker as a career, it is helpful for the financial professional to know and understand.
Reasons to Become a Factoring Broker or ISO
There are several reasons to become a factoring broker or ISO, including:
Growth potential: The global factoring market is a trillion-dollar industry and is projected to grow at a

CAGR of 6.1%

from 2022-2027. Much of this growth will come from small and medium-sized businesses, the heaviest users of alternative funding solutions.

Focus on business development: ISOs refer potential clients to factors. Factors do the heavy lifting required to evaluate and approve new clients. They also work with clients to onboard them to have a smooth transition. This leaves ISOs more time to develop prospective clients and grow their business volume.

Unlimited income potential: factoring brokers earn commissions over the length of time the client has an active relationship with the factoring company. Commissions can grow without limit with increased volume from existing clients and the development of new clients.

For accountants, insurance agents, lawyers, and other professionals, commissions can add another income stream to their businesses.

Work from home or an office and benefit from a better work/life balance.

The investment and time required to get an ISO up and running is low.

There are no specific education requirements or formal licensing in most states. Some understanding of financing and business transactions is helpful.

The process to sign-up and do business with a factor is simple and requires little time.
Steps to Become a Factoring Broker
If you would like to become a factoring broker with Capstone, the first step is to contact us via phone at 347-821-3400, through a web form on the website or by sending an email to [email protected].  
The next step of the onboarding process is to sign an Originator Agreement which identifies the terms of the relationship. We will then provide you with application documents, tutorials, training materials, brochures, and other educational aides to facilitate the onboarding process. After completing these steps and digesting the onboarding materials, you should be ready to refer your first prospective client. 
Why Choose Capstone
The factoring company you choose to work with is crucial to becoming a successful factoring broker and making commissions. Capstone is easy to partner with and provides the support you will need to be successful. Some of the benefits you can expect from working with Capstone include:
Industry knowledge and experience. Capstone has been a leader in the factoring industry for over 30 years and has experienced staff to assist you with onboarding to make your transition to a factoring broker as smooth as possible.  This is also important when structuring transactions, developing innovative business ideas, and helping your clients avoid pitfalls.

Custom-tailored

funding packages

. We understand every customer has their own unique needs, and we will work with you and with your client to make sure we offer a package that meets those needs.

Easy agreements, forms, and transactions to work with so you can spend more time developing new business.

Training so you need never worry about any uncertainty with our financial products. We can provide you with training, exclusive educational materials, and brochures.

Marketing materials to support your business development efforts.

Fast funding and approval times for new clients, so you earn commissions sooner.

Local and personalized customer service regardless of where your client is located.

Competitive commission rates. If we are doing business with your customer, you will receive a regular commission check from us.

Financial resources to fund the necessary transaction size and support your customer's growth plan.  Small or new factoring companies may lack the resources to fund transactions. 

A wide range of financial tools and programs to help facilitate the growth of your client.  We offer invoice factoring, purchase order (PO) financing, domestic and international trade finance, and pre-exporting financing programs. A single source for business funding can be more efficient and facilitate seamless business transactions. 
If you are looking to become a factoring broker or ISO and need a partner you can trust to help you build your business volume by assisting your clients, now is a great opportunity to partner with Capstone. The support we offer factoring brokers speaks to our commitment to your success. Get in touch today at (212) 755-3636.