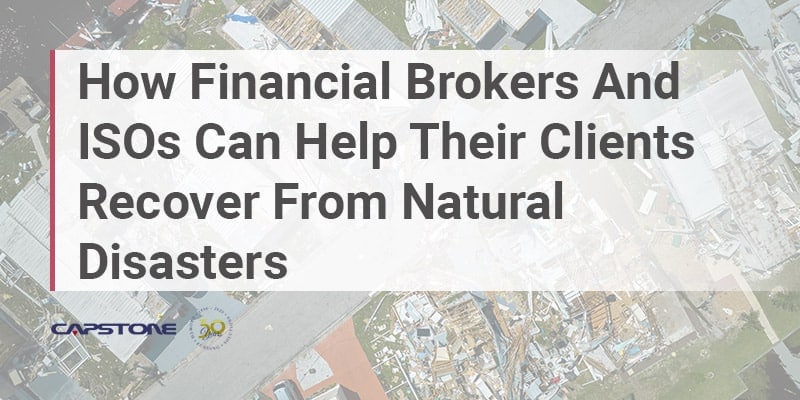 How Financial Brokers And ISOs Can Help Their Clients Recover From Natural Disasters
In the aftermath of major earthquakes, hurricanes, and wildfires, the recovery process generally requires a well-coordinated response and partnership between insurers, governmental agencies, aid organizations, financial institutions, service providers, and businesses to help the people and businesses affected rebuild their homes, businesses, and lives.  The following is how financial brokers and ISOs can help in the recovery from natural disasters.
Economic Losses from Natural Disasters on the Rise
Global economic losses from natural disasters reached $270 billion in 2021 and, unfortunately, are only expected to increase.  Most recently, we witnessed the destructive power of Hurricane Ian, a catastrophic Category 4 storm that made landfall on September 28, 2022, with initial damage estimated between $41 billion and $70 billion. As of October 2022, 471,581 insurance claims have been filed, with 431,702 reported in Florida. Nearly two-thirds of the Florida claims are homeowner and business claims (272,465), and the remaining are personal automobile claims (151,892). Hurricane Ian was the 5th strongest hurricane to hit the continental United States with the winds and flooding from the storm impacting areas including Florida, Georgia, Alabama, the Carolinas, and Puerto Rico.
Financial assistance for affected individuals and businesses is available from a number of sources. If you have clients that a natural disaster has impacted, you can help them understand what financial assistance and relief are available.
Financial Assistance and Relief Available to People and Businesses
Financial assistance and relief for losses not covered by property insurance is generally available through a number of sources, including:
Federal Emergency Management Agency (FEMA) – Funding from the federal government in designated disaster areas to help businesses and individuals with temporary housing; debris removal; infrastructure restoration – roads, bridges, communications, electricity, and other utilities; remediation, construction, and other expenses.

Small Business Administration (SBA) – Long-term, low-interest loans to repair or replace damaged property. Home Disaster Loans are available to homeowners and renters to repair or replace disaster-damaged real estate and personal property, including automobiles. Businesses of any size may obtain Business Physical Disaster Loans to repair or replace disaster-damaged property owned by the business, including real estate, inventories, supplies, machinery, and equipment. The SBA also offers Economic Injury Disaster Loans (EIDLs) of up to $2 million to meet expenses the business would have paid if the disaster had not occurred. FEMA also provides recovery grants to small businesses, but only through referral upon completion of the SBA loan application.

State and local relief programs – Programs for small businesses are limited, and state governments often appropriate emergency funds only after a disaster declaration is made, which delays immediate assistance.

Private debt, loans, or lines of credit from banks and other lenders – Securing a loan or line of credit requires collateral, but a disaster can limit the ability of business owners to pledge their homes that may be damaged from the disaster.

Alternative funding sources – Provide funding solutions, including invoice factoring and purchase order (PO) financing, to quickly increase cash flow and working capital. They are less difficult to apply for than a bank loan. 
The ability to obtain funding for cash flow and working capital, and to obtain it quickly, is critical to your client's ability to supply and provide services to customers in disaster-ravaged areas.  That said, if your client has been directly impacted by the natural disaster, they may find themselves in need of critical cash flow to aid in their recovery efforts.
How To Help Your Clients
The best way to help your clients is by partnering with a funding source that has experience in funding emergency preparedness and natural disaster relief projects.  Since Capstone's founding, we have specialized in finding working capital solutions for small to mid-sized businesses and have funded many critical disaster relief projects and transactions.  We look for client-specific solutions to enable us to help as many businesses as possible meet their business funding needs no matter level of urgency.
Earlier this year, a disaster relief transaction came to us through a client that had been awarded an emergency purchase order to supply the State of Louisiana with 250 trailers related to continued Hurricane Irma recovery efforts. Capstone provided funding via invoice factoring and purchase order (PO) financing facilities. The transaction would not have been possible without Capstone's ability and know-how to structure the transaction and efficiently (and quickly) deploy business funding, as the trailers had to be delivered within five days of receipt of the PO. 
Fast forward to recovery efforts stemming from Hurricane Ian, Florida officials are aware of how our client could perform and deliver on time and may use them to supply trailers for emergency housing in Florida. Organizations and businesses in hurricane-ravaged areas are also reaching out to Capstone for assistance in funding disaster recovery initiatives, as they are aware of our past performance and experience with such initiatives.  
What makes Capstone different from so many other companies who offer business funding is we have the experience and knowledge in structuring transactions. Capstone understands the complexities involved and has the relationships, necessary capital, and ability to rapidly deploy capital to clients that provide products and services to organizations and businesses serving those affected by natural disasters. 
Typically, the situation's urgency requires funding sources that can quickly act quickly and structure a transaction.  Traditional (institutional) financing and funding methods may not be an option because of their lengthy application and approval process. 
Clients that work with flexible and fast funding sources with disaster recovery project experience can be more responsive and successfully perform. As a consequence, they have the ability to take on larger projects and provide a better quality of service.  These clients are awarded more and larger projects and become preferred vendors/service providers during natural disasters.  
Capstone provides a range of financial products designed to meet the needs of nearly any type of business, including trade financing, invoice factoring, and PO financing.  If you have clients in any area devastated by natural disasters that need quick access to working capital and cash flow, contact Capstone today.