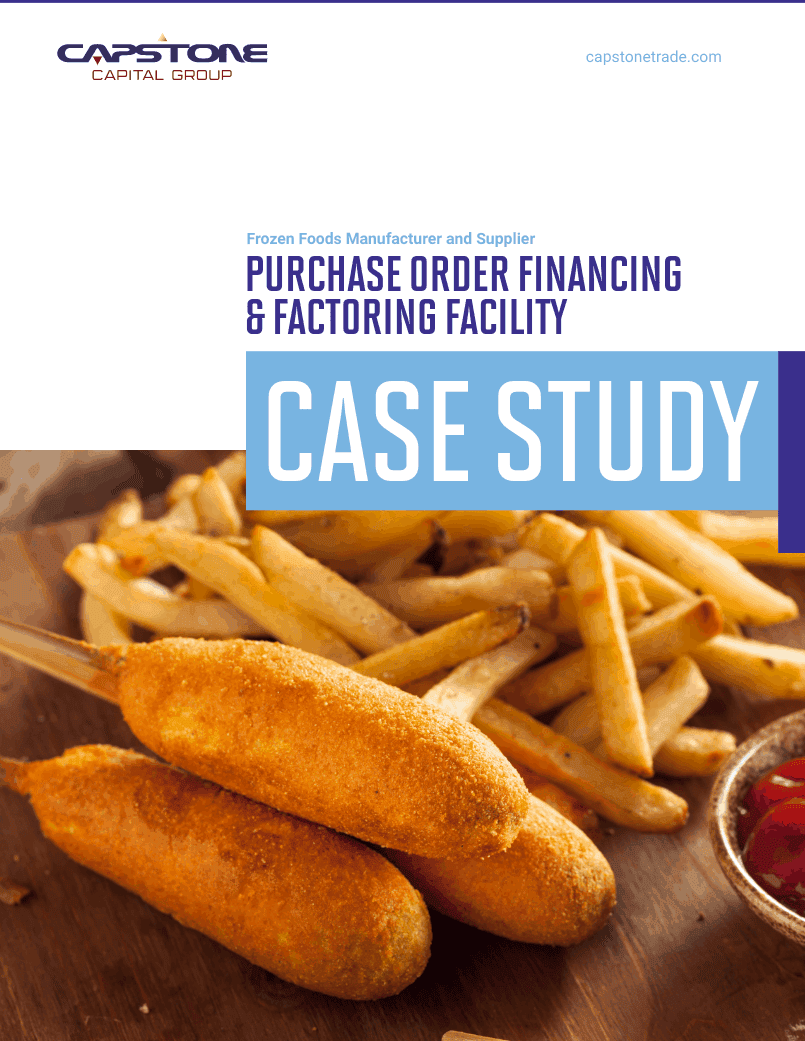 Frozen Foods Manufacturer and Supplier: Purchase Order Financing and Factoring Facility Case Study
This Client is a family-owned and operated frozen foods manufacturer headquartered in New York.  They offer a full line of convenience products, which includes an extensive line of appetizers/ hors d'oeuvres, pre-plated meals, gluten-free certified, vegetarian, bulk entrees, breakfast products, crepes, and blintzes.
Background:
Formed in the 1970s, the company is a nationally recognized leader in the production of high-quality, kosher endorsed (OU Kosher Certified), frozen foods products.
The Client manufactures under its own brand as well as private label which are distributed to all major renowned discount warehouses based in the United States.
Company Challenges:
This company is well established and has a well-deserved reputation however they were struggling to make timely payments to vendors due to working capital constraints imposed by their existing bank facility.
The Client's growth significantly outpaced its ability to leverage its balance sheet and cash flow.
They were unable to meet the growing demands of their major customers using their bank sponsored ABL Facility.
Capstone's Solution:
Provided a seven-figure Master Factoring Facility and a Purchase Order Facility.
Opened ad-hoc Letters of Credit for the purchase of new equipment.
Progress and Future Outlook:
Since the commencement of the relationship back in 2019, Capstone has purchased $72 million in total sales.
Cash flows and business operations were stabilized through the uncertainty of the COVID-19 pandemic.
Cash flow constraints were eased resulting in the Client meeting/surpassing order demand from all major customers.
The Client has found Capstone to be flexible, practical and knowledgeable about their industry; Capstone took the time to understand their business needs and provided a customized funding solution.